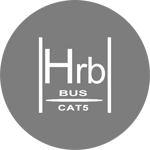 Urmet  HRB CAT5 is one residential management system. Exceptional audio and video performance alongsidefast and simple installation can be achieved by CAT5 wiring everywhere. Multi-channel communication for each riser, security system, home automation, lifts control and a widerange offeatures make Urmet HRB CAT5 the perfect answer for complex compounds with several buildings that require a reliable cost effective solution.
Urmet HRB CAT5 provides different levels ofhome automation solutions and HRB CAT5 H-Modo, X-Modo Monitors are perfect interfaces for them.
HRB Easy Home system for home automation is the answer for reliable and simple home control,it does not require extra wires since it works on HRB Bus CAT5 cable.
IPerHome automation (KNX, Can bus, Lon Works) is the perfect answer for luxury high-end apartments where a complete home automation solution is required.
Easy to install, Urmet HRB CAT5 System is programmed through Bluetooth interface and  Android or PC Software.