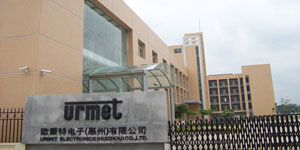 Urmet Electronics (Huizhou) Ltd.

Urmet Electronics (Huizhou) Ltd. was established in April, 2003 and moved into a self-built factory located in Huizhou, Guangdong Province in December of 2006. The factory occupied an area of 10,000 square meters, with a total construction area of 12,300 square meters; in 2007 Urmet open a new Research & Development office in Shenzhen (Urmet SRD) and in 2013 the SRD office in Shenzhen opened the Sales & Marketing department.

Urmet SRD China is a branch of the Urmet Group, which focuses on providing the best customer service, marketing and sales. As part of Urmet's efforts to increase our reach in Asian and Middle Eastern markets, our office in Shenzhen China has a group of experienced engineers and professionals who can provide support and assistance to client's needs in varying projects.

Urmet SRD China is the place where innovation and technology converge with the real-world needs of demanding customers. And rather than focusing on one strong attribute, Urmet SRD China deliver the right combination of benefits by selling security systems, building intercom , CCTV cameras and home automation systems.In Urmet China, innovation and customer satisfaction are our two keywords commitment in order to provide you the best.