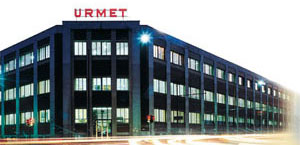 Urmet was established in Italy in 1937; since then the company has focus in design, development and marketing of products and systems for building automation and security, becoming a leading player in these areas thanks to its constant investment in technology research which simplifies and reduces installation time and improves it's functionality in residential, tertiary and industrial sectors. The wide range of Urmet's products offers solutions for living and working environments while meeting specific requirements in every single market.

The broad range of products provides an exhaustive choice of technological and aesthetic solutions.
Home Automation, Video Door Phone and Door Phone Systems, Telephony, Room Control, Professional Intrusion Alarm, Video Surveillance and Fire Alarm systems: solutions for every industry, developed in line with market demands.

Urmet has an extensive and reliable service network. Customers also enjoy the benefits of Urmet's sales network, which has a widespread presence on the territory with several sales offices nationwide.